In any successful company's toolbox, the global production plan stands out as a critical asset. Often interchangeably termed as the business or overall production plan, it serves as a blueprint for a company's long-term strategies.
At its core, this plan aims to weave together the essential elements of marketing, finance, and production functions over a 2 to 5-year period. (Stevenson & al, 2012)
The following figure shows all the stages of production planning. The image is taken from the book: The Management of Operations: Products and Services (Stevenson & al, 2012).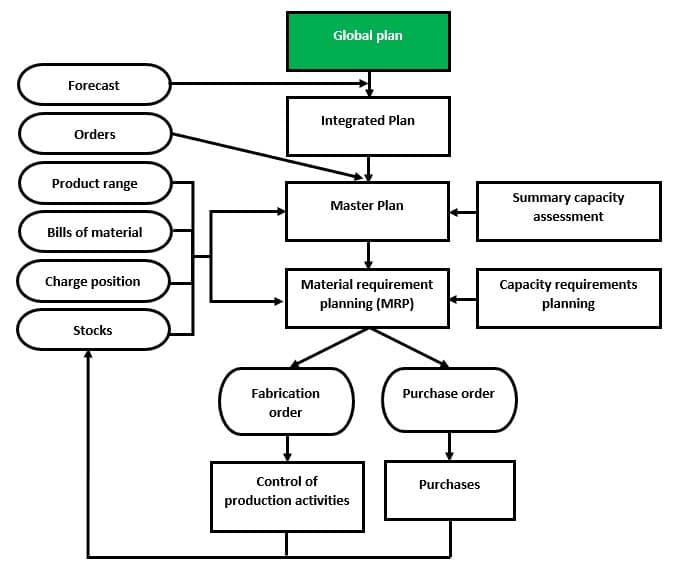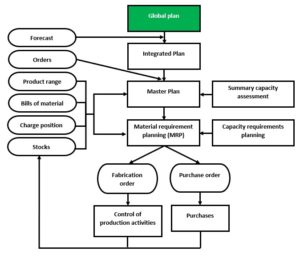 Understanding the Global Production Plan
The global production plan isn't just a buzzword; it's a meticulous strategy accounting for the "strengths, weaknesses, opportunities, and threats" (SWOT) of a business. Drawing from Stevenson & al (2012), this strategic direction seeks to balance and optimize production costs. This optimization is always in line with company objectives, available resources, constraints, and anticipated demand.
Moreover, they showcase various strategies, including leveraging low labor costs, harnessing economies of scale, and fostering flexible factory environments.
Factors Driving the Global Production Plan
To draft an effective global production plan, businesses must be privy to both internal and external factors:
Internal Factors: These are in-house elements that can be controlled or managed by the organization. Stevenson & al (2012) outline a non-exhaustive list:

Human Resources
Material and Layout
Financial Resources
Current Customer Base
Products and Services Offering
Technological Infrastructure
Supplier Relationships
Intellectual Property, like Patents
Distribution Network

External Factors: External influences are typically beyond a company's immediate control. Drawing from "La gestion des opérations: produits et services", these include:

Political Climate
Economic Trends
Societal Changes
Technological Advancements
Environmental and Ecological Concerns
Central to the discussion is the role of technology in production. Dive deeper into its implications in our dedicated article on 'Technological Performance'.
What Questions Does the Plan Address?
The global production plan isn't just a document; it's an ongoing conversation addressing:
Target Markets
Production Pacing
R&D Directions
Predicted Growth Rates
… all discussed and settled over a long-term horizon of 2 to 5 years.
Decisions Stemming from the Plan
The ripple effects of decisions made in the overall plan are vast, influencing:
Physical Infrastructure like buildings and warehouses
Workforce Dynamics
Equipment Procurement
Product and Service Lineup
Demand Forecasting
Overall Management and Production Workflow
In Closing
The global production plan is a compass for strategic direction. Driven by top-tier management, it offers a foresighted approach to production.
As visualized in the referenced figure, successful execution then segues into integrated plans, a master plan, and eventually, the Material Requirements Planning (MRP).
Reference
Stevenson, W. J., Benedetti, C., & Youssef, Y. A. (2012). La gestion des opérations: produits et services. Chenelière McGraw-Hill.